How to Build a $100 Million Dollar Sales Team (Upcoming Event)
Jun 02, 2022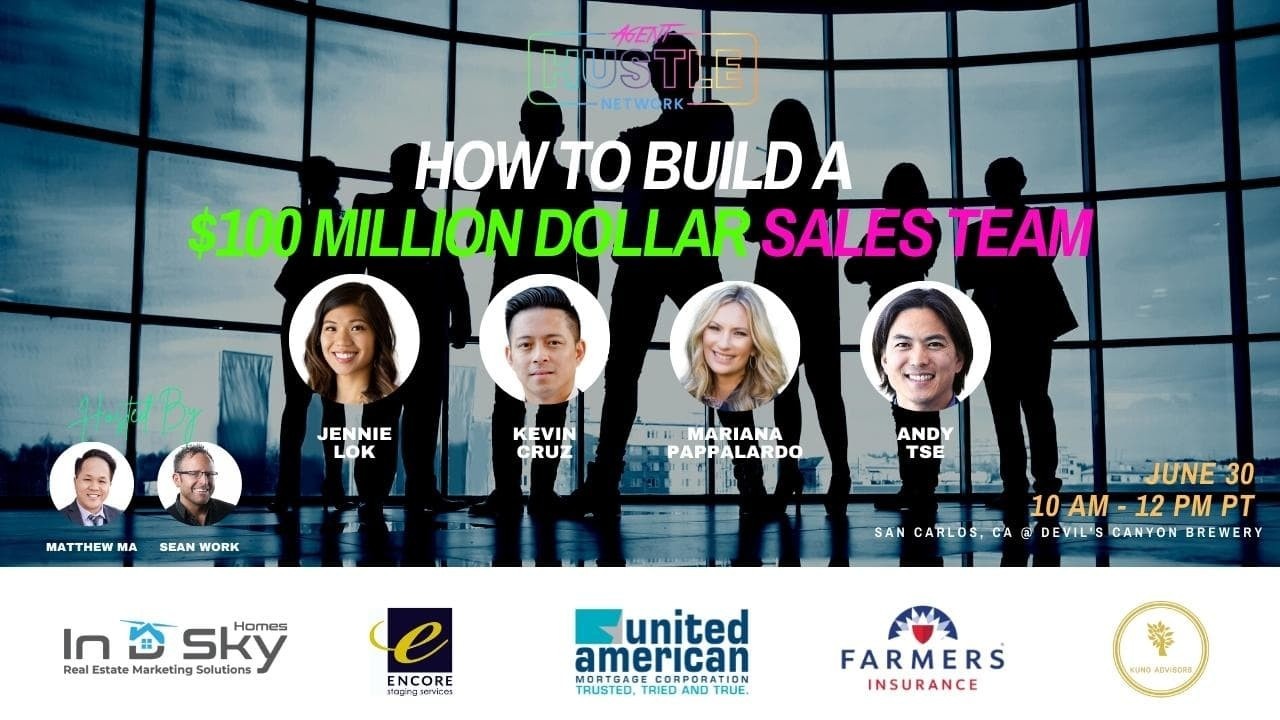 You're invited to a special Bay Area event on Thursday, June 30th from 10 am - 12 pm PT at Devil's Canyon Brewery! There will be great company, and incredible real estate opportunities for networking and training in a laid-back, fun environment! We'll learn about marketing, sales, tech, and more! Don't miss out!
Our keynote speakers Andy Tse, Jennie Lok, Kevin Cruz, and Mariana Pappalardo are top experts in the industry and will be sharing their tips for success with us.
Grab your tickets at 100MillionDollarSalesTeam.eventbrite.com
This one is for anyone who:
Wants to increase sales
Wants to build a winning team with amazing sales
Wants to grow their business
Objectives:
Align your thinking with that of a $100 million dollar real estate agent and team
Create your long-term and short-term goals and identify the milestones to attain them
Develop a detailed one-year business plan
Apply the focus to surround yourself with a winning sales team
Keynote Speakers
Andy Tse (TSE Group @ Intero)
Andy sold 430 homes and over $935 Million in Bay Area real estate in 2021. These accomplishments placed him at #1 within Intero Real Estate Services, #3 in the state of California and Andy has maintained his #1 ranking in Saratoga for the fourth consecutive year. Over the last 20 years, through masterful negotiation, deal-making, and unparalleled customer service, Andy has earned a reputation as one of the most sought-after real estate professionals in Silicon Valley.

Website: tsegroup.com
Jennie Lok (Zen Coast Homes @ Keller Williams)
Jennie is committed to educating her network and making her clients her number one priority and understands that real estate transactions are some of the most important decisions in your life. Jennie's goal is to help guide her clients to financial freedom through creative techniques through real estate and has helped dozens of clients ranging from fresh graduates in their early 20s to folks in their retirement.

Website: ZenCoastHomes.com
Kevin Cruz (Kinetic Real Estate @ Side)
Licensed since 2016, Kevin was in the business for just one week when he helped a family find their dream home. Within only two years, he became a prestigious award winner—which included the coveted "Entrepreneur of the Year" in 2017—and sold more than 100 homes. Not surprisingly, Kevin's real estate specialties are diverse. They include single-family homes, condos, and multi-unit properties, as well as relocation, property management, and 1031 exchanges. And with clients ranging from first-time buyers to Silicon Valley techies, Kevin initiates every interaction with exceptional customer service and dedication to complete client satisfaction.

Website: KineticRealEstate.com
Mariana Pappalardo (Mariana Pappalardo Group @ Compass)
Mariana's goal is to make your home buying and selling process like a dream. Her mission is "finding the right constellation" meaning-making all the efforts and timelines line up for you. Mariana's value comes from her hands-on approach to all her projects - serving as a contractor to transform homes through remodels and new construction. Her connections, experience, and access to the resources in the San Francisco Bay Area are how she can provide her white-glove service to clients of the highest caliber.

Website: MarianaPappalardo.com
Sponsors
Thank you to our wonderful sponsors!
In D Sky Homes
669.296.8189
[email protected]
InDSkyHomes.com
Encore Staging Services
408.800.1566
[email protected]
EncoreStagingServices.com
Kenny Stephen @ United American Mortgage Corporation
415.412.3363
[email protected]
Uamco.net
Angela Lee @ Farmers Insurance
650.315.2889
[email protected]
Agents.Farmers.com/CA/Burlingame/Angela-Lee
Ed Diaz @ Kuno Advisors
415.368.1149
[email protected]
facebook.com/EdDiaz.KunoAdvisors
Hosted By
Matthew Ma and Sean Work
Matthew Ma is an Investor, Syndicator, Coach, and Founder of Avant Asset Management, Avant Real Estate Group, Avant University, and The Truth About Real Estate Podcast. Started investing in San Francisco Real Estate at 25. With a background in tech, cyber security, marketing, lending, and 1031 exchanges, Matthew brings a wealth of knowledge to help agents scale their businesses.
In just 4 years in the industry, Sean Work was identified by the Wall Street Journal as the 95th ranked agent in the nation for closed homes. That same year, Sacramento Bee named him the 5th-ranked agent in Northern California. He's been featured on the HGTV show "House Hunters," has closed 720+ transactions, and served as the business coach and CEO of Keller Williams in San Carlos.
This is an open event, and we welcome all agents from any brokerage, franchise, and market area to join us. So, invite your friends, colleagues, brokers, and other industry professionals to join us, and.....we'll see you there!